Alliance pipeline sparks interest to expand
One of the worlds most unique natural gas pipelines is the Alliance pipeline and it is also one of the worlds most longest. Although not yet official, the owners are thinking about expanding the pipeline to go from Western Canada to Illinois in early November of this year. The Alliance pipeline is unique because, unlike other natural gas pipelines that only transport natural gas after it has been processed, Alliance carries unprocessed natural gas. Unprocessed, or wet, natural gas contains ethane, propane, butanes, and natural gasoline, as well as methane, the primary component of natural gas. Most long-haul natural gas pipelines transport natural gas after processing, meaning that the natural gas in the pipeline has had NGPL removed and consists of mostly methane. Once the expansion becomes official then valves such as the Trunnion Ball Valves and Thru Conduit Valves will be used throughout the pipeline.
It accomplishes this feature by modulating pipeline pressure up to nearly 2,000 pounds per square inch to ensure that the mix of methane and NGPL does not separate while in the pipeline.  The new compression stations would be built in the half way point of the pipeline. Currently the customers who receive this natural gas are; ANR Pipeline Company, Natural Gas Pipeline Company of America, Midwestern Gas Transmission Company, and Vector Pipeline Company.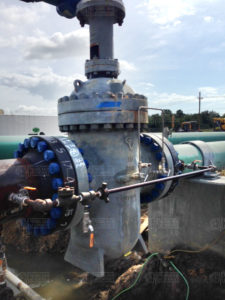 Pipeline Sending Natural Gas from Western Canada to Chicago Considers Expanding Capacity