Many of you have heard what happened in Chernobyl- located North of Kiev, Ukraine and near the south border of Belarus. I was born in the year 1986- when it happened and always interested in the history of my country. (Russia).
Here is a script of what exactly happened from: www.world-nuclear.org/info/chernobyl/inf07.html
"The interaction of very hot fuel with the
cooling water led to fuel fragmentation along with rapid steam production and
an increase in pressure. The design characteristics of the reactor were such
that substantial damage to even three or four fuel assemblies can – and did – result in the destruction of the reactor. The
overpressure caused the 1000 t cover plate of the reactor to become partially
detached, rupturing the fuel channels and jamming all the control rods, which
by that time were only halfway down. Intense steam generation then spread
throughout the whole core (fed by water dumped into the core due to the rupture
of the emergency cooling circuit) causing a steam explosion and releasing
fission products to the atmosphere. About two to three seconds later, a second
explosion threw out fragments from the fuel channels and hot graphite. There is
some dispute among experts about the character of this second explosion, but it
is likely to have been caused by the production of hydrogen from
zirconium-steam reactions. The
graphite (about a quarter of the 1200 tones of it was estimated to have been
ejected) and fuel became incandescent and started a number of fires,
causing the main release of radioactivity into the environment."
Here is also an interesting website that shows more pictures and a video of the aftermath of Chernobyl
www.angelfire.com/extreme4/kiddofspeed/chapter1.html
Global Valve and Controls
(GVC) is a growing manufacturer of flow control products tailored to meet the
needs of various industry requirements with the primary focus being within the
petrochemical and oil and gas industry.  GVC provides one of the most
comprehensive product lines of valve product offerings to accommodate and
service the Upstream, Midstream, and Downstream market segments.  GVC
continues to make strides in elevating our company beyond industry standards
and customer expectations by consistently providing superior quality,
maintaining expansive inventory levels, and immediately responsiveness to
customer needs.
Finish products of valves in
inventory has been a key contributing factor to the growth and success of
Global Valve and Controls, the technical sales and engineering team at GVC is
ready to provide engineered solutions customized and tailored to meet your
needs as a client.  Ranging from ANSI 150 through 2500 fully
automated valve packages, soft seated valves (Trunnion and floating design),
metal seated valves, fugitive emission solutions, control packages, various
valve coating solutions, and Build-to-Order, Global Valve and Controls has the
right valve to meet or exceed your requirements. Global Valve and Controls
expertise in valve manufacturing is backed by a management team with over 35
years collectively serving the Energy and Oil and Gas industries.
Our expansive product range
consist of ball valves (Trunnion and floating design) check valves, gate
valves, globe valves, needle valves, and rotary 1/4 turn scotch yoke and rack
in pinion actuators.  Global Valve and Controls' global network of
manufacturing facilities are in compliance with ISO 9001 and API 6D standards.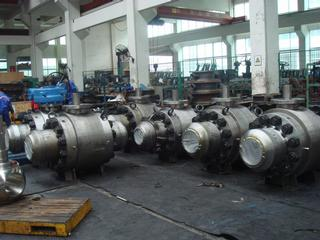 The need for a consensus standard targeting the measurement of gaseous hydrocarbons and other components of gaseous streams allowing users to better comply with U.S. Environmental Protection Agency's greenhouse gas regulation provided the impetus for the development of a proposed new ASTM International standard meeting this need.

ASTM WK33788, Test Method for Determination of Hydrocarbons and Nonhydrocarbon Gases in Gaseous Mixtures by Gas Chromatography, is under development by Subcommittee D03.07 on Analysis of Chemical Composition of Gaseous Fuels, part of ASTM International Committee D03 on Gaseous Fuels.

According to Shannon Canfield, marketing chemist, Wasson-ECE Instrumentation, and chairman of D03.07, ASTM WK33788 is a merging and enhancement with updated technology of two ASTM standards, ASTM D1945, Test Method for Analysis of Natural Gas by Gas Chromatography, and ASTM D1946, Practice for Analysis of Reformed Gas by Gas Chromatography.

"ASTM D1945 and ASTM D1946 will remain on the books as the natural gas industry uses them just as they are written," says Canfield. However, Canfield notes that many users perform gaseous fuel hydrocarbon analyses using hardware and technology such as capillary columns and various detectors that are not included in D1945 and D1946.

"In order to comply with what is being used in the industry and to provide regulators with a more comprehensive method to point to, we decided to develop ASTM WK33788," says Canfield.

The proposed new standard will cover the analysis of parts per million to percent level inert gases such as hydrogen, oxygen, argon, nitrogen, carbon monoxide and carbon dioxide along with low ppm level hydrocarbons such as methane, ethane and propane in various gaseous streams. The proposed new standard is intended to be performance based. The methodology described in the proposed standard enables separation of low molecular weight hydrocarbons and inert gases for a detailed analysis of the composition of gaseous streams.

Refineries and chemical plants, along with contract laboratories and regulatory agencies, will be the primary users of ASTM WK33788.  All parties interested in aiding the development of gaseous fuels standards are encouraged to join Committee D03.

ASTM International welcomes and encourages participation in the development of its standards. For more information on becoming an ASTM member, visit www.astm.org/JOIN.

ASTM Committee D03 Next Meeting: Dec. 5-7, 2011, in conjunction with D02 December meeting, New Orleans, La.
Technical Contact: Shannon Canfield, Wasson-ECE Instrumentation, Fort Collins, Colo., Phone: 970-221-9179; shannon_canfield@wasson-ece.com
ASTM Staff Contact: Alyson Fick, Phone: 610-832-9710; afick@astm.org
ASTM PR Contact: Barbara Schindler, Phone: 610-832-9603; bschindl@astm.org

Release #8969September 20, 2011
http://www.astmnewsroom.org/default.aspx?pageid=2585