On Monday, Austin, Texas' Pipeline operators and landowners called the Texas Lawmakers to clarify eminent domain laws. A recent court decision that has thrown the authority's into questions.
Before the Texas Supreme Court made any ruling, on the Texas Landowners, in regards to having the power to challenge a company's right to condemn their home and/or land. The company only needed to check a box on the Texas Railroad Commission Permit Application to prove the company should have the right to force landowners to sell their land.
This goes back to in the article I recently wrote about "Pipeline Companies Have More Rights than Residents".  Juila Trigg Crawford, a landowner and farmer in Lamar County, states she was sued by the Famous Pipeline Corporation "TransCanada Corp" when she refused to turn over part of her land. A common carrier is a pipeline that transports substances to or for the public and are for hire by the public. But she states "The process lacks real oversight by any empowered and engaged state agency. Why is it my responsibility as a Texas Landowner to make a foreign corporation to prove critical elements that should be step one in the state permitting process?"
But the Texas and Southwestern Cattle Raisers Association, Clayton Henry told lawmakers his members want a process where they can argue against a pipeline company using eminent domain authority. He says "To simply check a box on a one page form, submit a pipeline route, and post a $25,000 bond to receive condemnation authority appears to be a very low bar."
Although, David Land, an attorney for the General Land Office, states "if the state has appealed a case to the 5th Circuit Court of Appeals over the Texas Supreme Court, if the state does not win the appeal it could be forced to spend millions to claim such property when the beach erodes suddenly."
With this being said, if the Court finds the Pipeline a great idea, which will put thousands of home owners in danger or even homeless, the Courts will find themselves a great Law Suit if the documents are not being filed correctly! The intake in the matter of your home being taken away from you, gives you signs of "What will the Government do next? If we suffer through another hurricane, what else will prevent thousands of lives dead all because of 1 pipeline which who knows would benefit this world?"
http://www.adn.com/2012/07/23/2552753/pipelines-unhappy-with-texas-eminent.html
Tagged as: (eminate domain) and lawsuit and (lamar co., tx), 3inch butterfly valves, Ball Valves Houston, Clayton Henry, Common Carrier, Company, Condemnation, Critical Elements, Double Block and Bleed Ball Valves, Eminent domain, Eminent Domain Authority, eminent domain recent controvis, Eminent Domain Ruling, Flanged Ball Valves, General Land Office, High Performance, Lamar County, lamar lawsuits against landowners, landowner refusal pipeline common carrier texas, NACE Ball Valves, Pipeline Ball Valves, Pipeline Companies, Pipeline Company, Pipeline Operators, Pipeline Route, pipeline valve, Texas, Texas And Southwestern Cattle Raisers, Texas And Southwestern Cattle Raisers Association, Texas Landowner, Texas Landowners, Texas Lawmakers, Texas Pipeline, Texas Railroad Commission, Texas Supreme Court, Th Circuit, Transcanada Corp, Trunnion Ball Valves, trunnion mounted ball valves, trunnion mounted valves
No Comments
This week's oil spill happened earlier this week on Monday near Elk Point, Alberta. The pipeline is owned by Enbridge. According to Alberta's Energy Resources, the spill did not enter in any waterways and no one was injured.
"The release occurred Monday at a pumping station about 15 miles from Elk Point, which is about 125 miles east of Edmonton. "
"The spill came from the Calgary Pipeline Company's Athabasca pipeline, which transports oil from several oil sands projects in northeastern Alberta to a terminal in Hardisty, Alberta. The pipeline can carry 345,000 barrels of oil a day."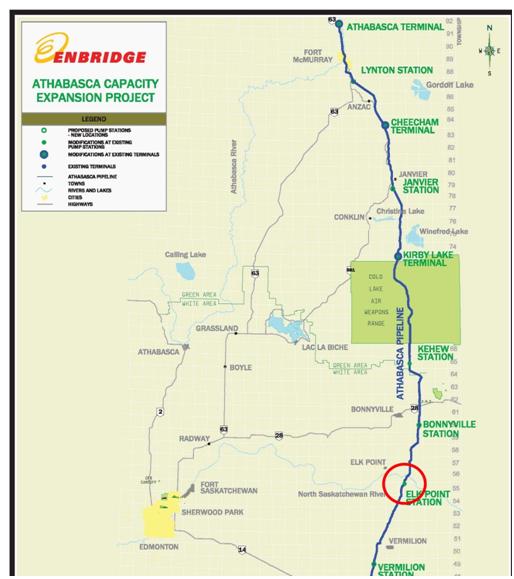 http://www.rigzone.com/news/article.asp?a_id=118742&hmpn=1
Tagged as: Alberta, Amp, API 6D Valves, Athabasca, Ball Valves, check valve oil spill, colictc.com, content, Double Block and Bleed Ball Valves, Edmonton, Elk Point Alberta, Enbridge, Energy Resources, Energy Resources Conservation Board, global valve news, Hardisty Alberta, london ball valve, london trunnion mounted ball valve, NACE, NACE Ball Valves, news, News Article, Northeastern Alberta, Oil Sands, Oil Spill, pipeline ball, pipeline ball valve, Pipeline Ball Valves, Pipeline Company, Pumping Station, Trunnion Ball Valves, trunnion mounted ball valves, Waterways, www.a.p.i pipeline company
No Comments
Blogroll
Flanged Valves Posts
Pipeline Valves Categories
Pipeline Valves Archives