Gas prices just under $3.00 in Oklahoma
"The statewide average price of a gallon of regular unleaded gasoline settled at $3.27 on Friday, down more than 46 cents over the past month, according to AAA's FuelGaugeReport.com. The price sets Oklahoma with the third-lowest statewide average, just behind Ohio and Missouri."
This is exciting news for those of us who live in the states mentioned where the gas has dropped. I live near Tulsa, which means my V8 luxury car can fill up and not go over $60.
"The average price in Tulsa is $3.11, off 53 cents over the past 30 days."
Similar information can be found on Gasbuddy.com, but the news is better for Oklahoma residents, as motorists there have been paying prices below $3.00 in parts of Oklahoma City and Tulsa. However, this could all change for the coming hurricane Sandy in the mid- Atlantic area. Refineries there could be shut down, for an unknown amount of time. Gas prices then might just go back up.
As of right now, it's good news for us in Oklahoma, but diesel is not part of the major drop in prices of gas. ""Typically demand does not fluctuate with diesel because it is mostly used by 18-wheelers, which don't have a demand season or an off season,"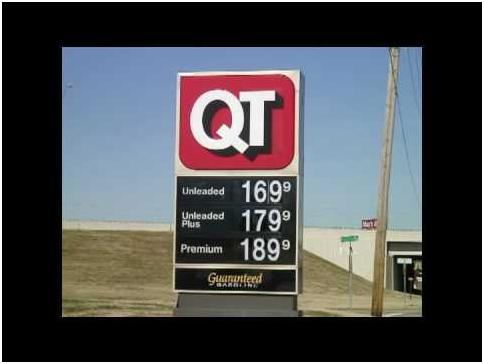 Read more: http://Read more: http://newsok.com/oklahoma-seeing-gasoline-prices-below-3-again/article/3722646#ixzz2AjAW5uZc
Updated: June 7th, 2012 1:10PM
Have you noticed the amount of Gas Prices went down? Remember when you were struggling to continue with $3.85 (West Houston area), now prices are ranged from $3.25 - $3.43 (West Houston area).
Although CBS Money Watch reports here http://www.cbsnews.com/8301-505245_162-57449027/retail-gasoline-prices-drop-6-cents-across-texas/ "Retail gasoline prices across Texas have dropped an average of 6 cents this week in a slide that began two months ago. After Prices dropped 6 cents, gas is running at $3.56 per gallon (in some areas)."
However, the Association states "The decline in gasoline prices continues as global crude oil prices drop in response to economic concerns overseas." I personally enjoyed the amount of cents gas fell; it's getting a little carried away how the prices were up very high.
Frank Nieto | March 11, 2011
Just how significant has the Marcellus shale been in increasing the production of natural gas in the Northeast? That's the question that the Midstream Monitor decided to answer in our first Spotlight feature.
Using data supplied by Hart Energy's Mapping & GIS division, Midstream Monitor found that production out of the Marcellus region rose from 62.25 million cubic feet per day (MMcf/d) on January 1, 2008 just before the region became hot to 3.19 Bcf/d on December 31, 2010 after production had taken off in the region.
While there have been dips in these production figures during this two-year period, by and large production has gone from strength-to-strength with production peaking on December 24, 2010 at 3.24 Bcf/d.
It is important to note that these figures do not represent the Marcellus shale alone, only receipt figures from gathering systems in the region. These pipe flows do not necessarily represent actual wellhead production.
"Production out of the Marcellus shale is currently approximately 1.3 Bcf/d and should exit the year by jumping over the 2 Bcf/d hurdle," Opoku Danquah, director of upstream research for Hart Energy, said.
While gas prices remain weak, the Marcellus shale represents a premium market for producers due to its proximity to lucrative markets in the Northeast. However, this location also presents a problem for producers – namely being able to get these volumes to market.
This has turned out to be a boon for midstream operators, who are in the midst of building up the region with much needed infrastructure. The biggest projects attached to the Marcellus from a midstream perspective are, of course, pipelines with companies such as Williams, Spectra, El Paso, Kinder Morgan and EQT building new pipelines, as well as laterals to existing pipelines.
However, there are also strong opportunities for natural gas processing plants since the states that make up the play are among the lowest in terms of processing capacity. Because of this processing shortage in West Virginia and Pennsylvania, we've already seen several plants in each state brought online or announced so far this year.
In January, Caiman Energy brought the 120 MMcf/d Ft. Beeler cryogenic plant online in Cameron, West Virginia and that same month MarkWest Liberty Midstream & Resources announced it will build its third natural gas processing plant in the play when it constructs a 120 MMcf/d cryogenic plant in Logansport, W. Va., by mid-2012. This will be MarkWest Liberty's third plant in the play. – Frank Nieto