2 Pipelines companies are ready for the New Year to begin
Enbridge and Enterprise have just announced that the expansion work on the Seaway is complete, bringing its Cushing takeaway capacity up from 150,000 to 400,000 per day. This pipeline carries crude oil from Cushing, Oklahoma to the Gulf coast.  These two companies are among the biggest players in the midstream company.
"Like Enbridge, Enterprise operates pipelines -- more than 50,000 miles of them -- but it has plenty of other assets that generate cash. Its business mix includes natural gas pipelines and processing centers, natural gas liquid (NGL) pipelines and fractionating facilities, storage facilities, and terminals"
"Production in North America is still growing and pegged to continue doing so for at least the next few years, which means volumes across the systems of companies such as Enbridge and Enterprise will continue to grow as well. Expect these stocks to grow this year."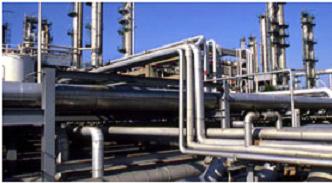 http://http://www.fool.com/investing/general/2013/01/12/2-pipeline-stocks-poised-for-profits-in.aspx
"The importance of the pipeline in industry, agriculture and nearly every vital facet of civilization cannot be under-emphasized. Without pipeline construction, we would lack plumbing and electricity, not to mention access to gas & petroleum reserves."
"A massive undertaking of over 5 km in length, the Veltins Arena beer pipeline was constructed to ensure that it would never "run dry".
 What a great idea! If we could use the abandoned pipeline to make them into beer pipelines- nothing would go to waste! We wouldn't have any decommissioned pipelines lying around either.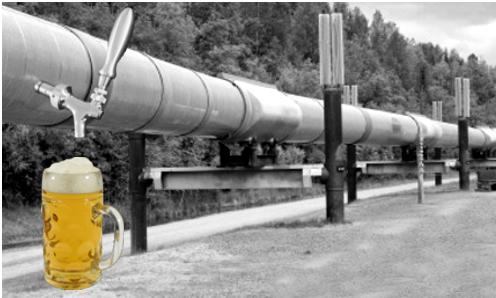 http://www.cmarshallfab.com/solving-the-oil-industrys-pr-and-financial-problems-one-beer-at-a-time
Not, all the pipeline projects are dead yet! I am hoping with the new election coming up, there will be new projects and new pipelines to build.
"Enbridge has secured commercial support to proceed with several projects designed to increase capacity on the Enbridge crude oil mainline system in Canada and the U.S. and to increase capacity on pipelines that serve eastern U.S. and Canadian refineries."
 "Elsewhere the installation of a new 35-mile, 20-inch pipeline twinning the existing Enbridge Line 17 (Toledo pipeline) will add 80,000 bpd of capacity to the Enbridge mainline system. The line is expected to be available for service in early 2013 at a cost of approximately $0.2 billion."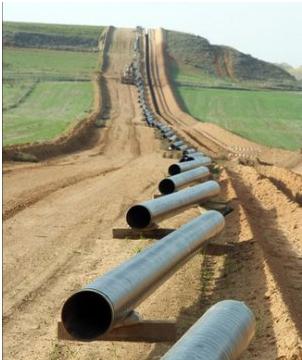 http://www.valvemagazine.com/index.php/news/end-user-news/4149-enbridge-announces-series-of-expansion-projects
This week's oil spill happened earlier this week on Monday near Elk Point, Alberta. The pipeline is owned by Enbridge. According to Alberta's Energy Resources, the spill did not enter in any waterways and no one was injured.
"The release occurred Monday at a pumping station about 15 miles from Elk Point, which is about 125 miles east of Edmonton. "
"The spill came from the Calgary Pipeline Company's Athabasca pipeline, which transports oil from several oil sands projects in northeastern Alberta to a terminal in Hardisty, Alberta. The pipeline can carry 345,000 barrels of oil a day."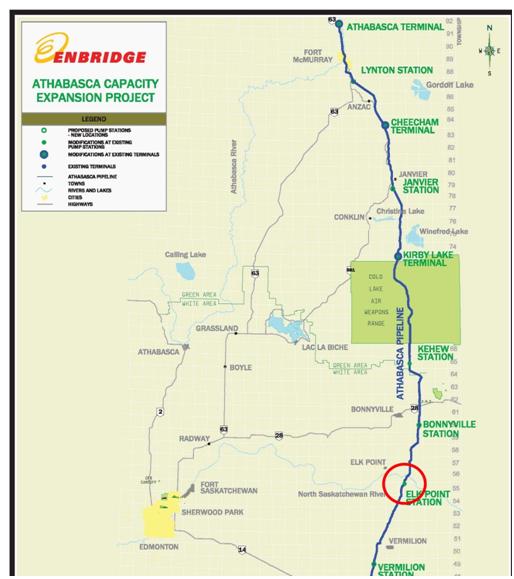 http://www.rigzone.com/news/article.asp?a_id=118742&hmpn=1