North Dakota booming with oil
"As of 2006, the state was only producing about 100,000 barrels of crude oil per day, putting it on par with other mid-tier oil producing states like Kansas, Colorado and Montana. But new hydraulic fracturing techniques and the opening of the massive Bakken formation to drilling changed all that, and as of January 2013 the state was producing an average of 770,000 barrels of crude per day, for a total of 23,834,000 barrels per month."
It's no wonder with all the oil in North Dakota that the state is ranked #3 in the US for producing the most oil, Texas of course being #1.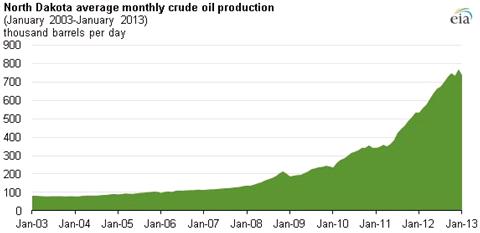 http://news.yahoo.com/blogs/the-exchange/wow-north-dakota-lot-oil-170648051.html
Oil production increases Railroad growth
"US President Barack Obama in his second inaugural speech called for a $50 billion upgrade of the US transportation infrastructure, including rail that political analysts say will be hard to finance."
 "The rapidly growing need for more rail transportation of crude has triggered sizeable investments in both loading and unloading facilities and soaring orders for tank cars "making movement of oil by rail a major growth market for North American railroads,"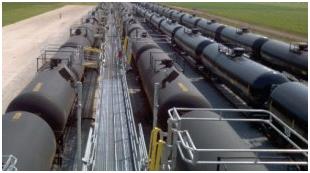 The rapid increase of North American crude production has resulted in pipeline bottlenecks in some areas, forcing more reliance on rail transportation to access some of the highest-value markets
http://www.ogj.com/articles/2013/02/working-on-the-railroads.html
Is the Keystone XL Pipeline Worth Getting Arrested For?
"Last week, four dozen opponents of the Keystone XL pipeline were trying to convince President Obama to reject federal approval for the line, which aims to carry crude oil from Canada and North Dakota's Bakken shale crude  to the U.S. Gulf Coast. But if opponents of the Keystone pipeline are going to stop the flow of crude, they are going to have to do more than just get arrested or hold a rally—they are going to have block nearly every north-south rail line in North America."
 The Keystone XL is designed to transport 830,000 barrels per day. There is currently nothing new in moving oil by rail cars. Currently, U.S. and Canadian oil producers are building rail car terminals so they can ship their product to the market. Other countries around the world are doing the same as well.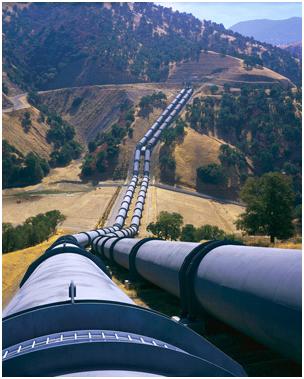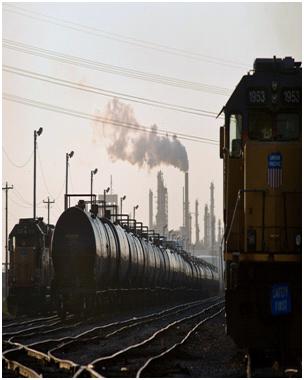 http://www.slate.com/articles/health_and_science/science/2013/02/keystone_pipeline_protests_oil_companies_will_just_use_railroads.html
Gulf of Mexico Poised to Remain Strong in Coming Years
"The Gulf of Mexico (GOM), one of the major petroleum-producing areas of the world, is in the early stages of an extended growth cycle and is poised to remain one of the strongest offshore markets in the world in terms of deepwater activity. Overall, rig count and exploration and production (E&P) activities are at pre-Macondo levels and look tocontinue on an incline for the next couple of years."
The Gulf of Mexico remains one of the most geologically attractive areas, It is also located in a stable region of the USA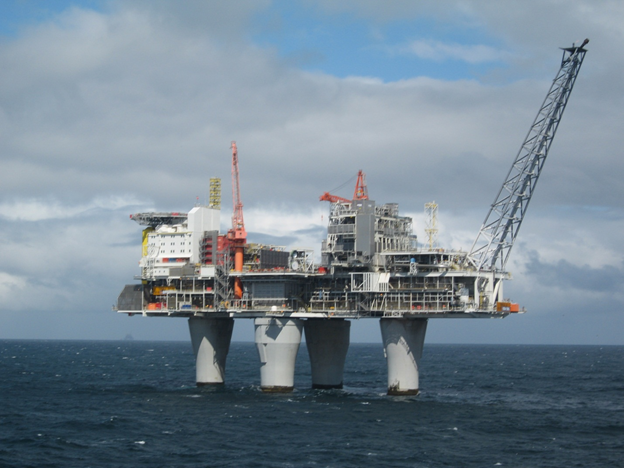 http://www.rigzone.com/news/oil_gas/a/124243/Gulf_of_Mexico_Poised_to_Remain_Strong_in_Coming_Years
"Most people have seen several needle valves in their lifetime although they may not know it. Needle valves are commonly used in the plumbing applications of outdoor spigots to control the flow of water. They are similar to globe valves but are designed with a long tapered shaft in the center of the valve to control the flow instead of a disk."
http://www.ehow.com/about_6710315_needle-valve_.html

"The federal government is taking steps that may open California's fabled coast to oil drilling in as few as three years, an action that could place dozens of platforms off the Sonoma, Mendocino and Humboldt coasts, and raises the specter of spills, air pollution and increased ship traffic into San Francisco Bay."
The impacts of the drilling will cause increased vessel traffic, more oil spills, as well as put the whales, dolphins, Sea turtles, Seabirds and other animals at risk.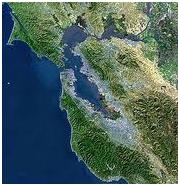 Read more: http://www.sfgate.com/cgi-bin/article.cgi?f=/c/a/2008/12/28/MN4G14QMVE.DTL#ixzz1vVfoPavv
Ever wonder what life would be like if you lived on a Rig?  When you first step on a rig, you will be handed your work boots, goggles, and working clothes. You will then be given a tour of the facility.
Depending on where you are located- some rooms have Television sets, and/or wireless internet that you can access. Some even have saunas, pools and gyms!
Offshore rigs operate 24 hours a day, so one week you might work the day shift and the next you might work the night. The schedule rotates to make it fair for everyone.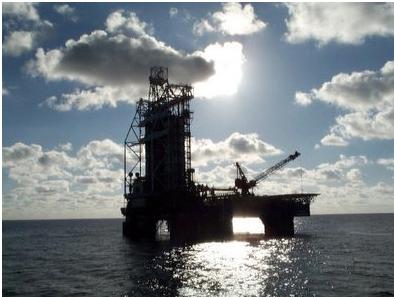 http://www.rigworker.com/lifestyle.shtml
The title explains it all. In 1963 the raw materials were inside whiskey barrels and pulled by horses. 
"Despite considerable ridicule, threats, armed attacks, arson and sabotage, the first wooden pipeline, about 9 miles in length, was built in 1865"
Today, oil pipelines are made out of steel or plastic tubes.  They are more than 9 miles in length. The Trans Canada pipeline is approximately 2147 miles.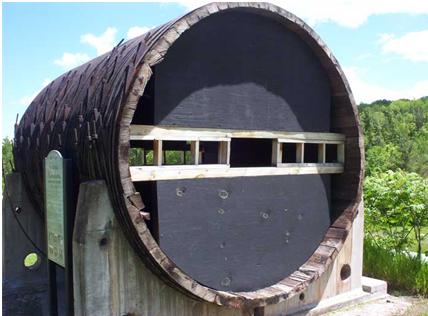 Modern pipelines can be used for:
gather oil and gas over one mile beneath the ocean surface
transport supercritical fluid carbon dioxide for territory oil recovery
carry natural gas liquids for growing regional heating and olefins industries
and transport specialty chemicals between chemical plants and refineries
Source: http://www.pipeline101.com/history/timeline.html
Two questions: Who loves money? Who enjoys paying for gas at a low cost? If you say "I", well you might just get lucky.
The House of Representatives passed a bill requiring swift approval of the Keystone XL pipeline; however, they state the pipeline will carry heavy crude oil from Canada's Alberta province to the Gulf Coast. Although the Obama administration has claimed it needs more time to study the possible environmental impact. – My questions are: How much time do you need Obama? Would you want us to wait until you finish your four-eight years in the office?
Republican Fred Upton, chairman of the Energy and Commerce Committee; states: We are interested and assertion that the Keystone "will…help bring down prices at the pump". However, the Keystone XL Pipeline will not be completed till 2014, so at this time they say building the pipeline will have no impact on gas prices going down but very much going up. Although, House Speaker John Boehner states on February 17, 2012 "House GOP acts to address rising gas prices". The Keystone XL Pipeline would carry about 1.1 Million Barrels per day, but has depressed the price of crude oil in the Midwest. Philip K. Verleger, who owns PKVerleger LLC also known as Limited Liability Corporation out in Delaware, argues about the pipeline would increase gasoline prices in the upper Midwest. The amount of the price being raised is from 5 to 10 cents a gallon.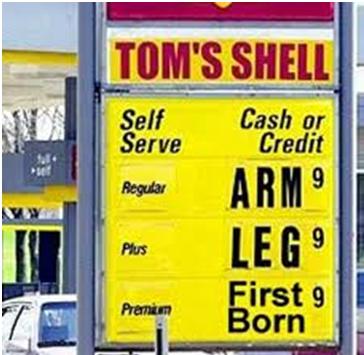 What also is very interesting, the fact that TransCanada is in fact "Sheet on the Keystone XL Pipeline" although, this makes no claims about the prices decreasing, but also, they state it doesn't look as if the pricing are increasing either. The prices on a global level are set in motion and it will not change just because the Keystone XL Pipeline bill has been approved and is in process of being built.
So to answer the above questions: Who loves money? – Unfortunately, everyone loves money; however not everyone could afford gas if prices continue to go up.
Who enjoys paying for gas at a low cost? – I would hope everyone… Since a vehicle, a plane, and even a boat will consume gas, everyone has already involved themselves in the new economic ways. We no longer ride bicycles to get us to the store, so why not enjoy a few cents this pipeline COULD benefit us.
On another note: Rep. Upton says the pipeline will have an impact on the prices being lowered, but experts say could. We the people will just have to wait and see what happens, and how much this project is going to save us or cost us.
http://www.washingtonpost.com/blogs/fact-checker/post/will-the-keystone-xl-pipeline-lower-gasoline-prices/2012/03/01/gIQAtWkXlR_print.html
Hydraulic fracturing was first used in Texas to stimulate oil wells as early as the 1940's.
Hydraulic fracturing also referred to as 'Fracking' has created a supply of low-cost natural gas. This reduces the cost of heating for people using natural gas to heat their homes, as well as low cost electricity.
Shale is usually located thousands of feet below aquifer.  So the risk of aquifer contamination is virtually impossible.  Contamination usually occurs if the cement around the drill pipe is not sealed properly, this can allow natural gas to migrate to the surface. Once at the surface the gas can enter well water or aquifers. This can be prevented by proper procedures.
Companies are constantly working on newer better technologies to help eliminate the concerns associated with fracking. There are reports that Canadian companies have used liquefied petroleum gas consisting mostly of propane instead of water, and Poland is experimenting with vibration.
Source: http://dddusmma.wordpress.com/2011/06/03/fracking-risks-and-benefits/