The valve has many components that you can choose from when ordering, thus it is always important to know the media or application the valve will be used in. For example; knowing what end connections you need is very crucial. Not all applications can accommodate.
There are tons of End Connections that you can choose from, GVC offers:
Raised Face (Flanged) Connections
Ring Type Joint (Flanged) Connections
Threaded Ends
Socket Weld Ends
Occasionally Butt Weld (Not Standard Production End Connection)
Fact: Did you know that Flanged End Connections are known for being easy to apply to your project?
You may wonder what the difference is between Flanged and Threaded Ends. Flanged Valves feature more bolts, resulting in less tightening, in contrast to Threaded End Connections which need more tightening. Flanged Ends overall can be used for any type of Valve, i.e. Gate, Globe, Ball, or Check. When you have a Threaded End, ultimately you will be working with a Low Pressure type situation. GVC offers Valves with Threaded End connections and can be modified to Socket Weld or Socket Weld x Threaded if need be.
Socket Weld End Connections are commonly used on Stainless Steel or Carbon Steel Valves. When you have a higher temperature and pressure rating you would want to turn to the SW Connection. GVC offers SW Ends and features their leak free seal.
Last but not least, the RTJ and Butt Weld End Connections: GVC stocks majority RTJ End Valves opposed to Butt Weld End Valves. Butt weld end valves are applied to most applications where a higher grade of steel, temperature and pressure is needed. An Engineer from an article I found states, "RTJ Valves have grooves cut into their faces in which they obtain steel Ring Gaskets. They seal when tightened bolts compress the gasket between the Flanges into the grooves, deforming the gasket to make contact inside the grooves, thus creating a metal to metal seal." Each valve end is beveled to match with the thickness and bevel on the pipe.
Can you guess what the end connections in the picture are?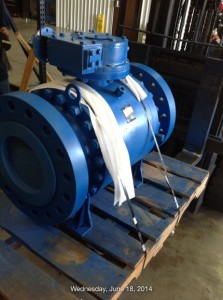 A new report suggests that the nation's growing methane mitigation industry can boost economic development in key energy states and help reduce oil and gas air pollution, according to the Environmental Defense Fund. As the federal government considers standards to limit methane emissions from oil and gas operations, the demand for this equipment and services is expected to rise. A report from the consultancy ICF International indicated methane emissions will increase roughly 5 percent from now through 2018 absent industry-wide adoption of new control measures.
How has this new industry been a benefactor on the growth of local economies? The report identified 76 companies nationwide – more than half small businesses – that manufacture methane controls or offer related services from over 500 different locations across 46 states. Ten states had the highest concentration of facilities: Texas, Oklahoma, Colorado, Pennsylvania, Louisiana, California, Wyoming, Illinois, Ohio and New Mexico. These states stand to gain the most from future growth associated with this industry.
Unburned natural gas is primarily methane, both a powerful greenhouse gas and a valuable product. Many companies have effectively developed technologies and services that capture these emissions from oil and gas systems
http://yourpetrochemicalnews.com/emerging+u.s.+methane+mitigation+industry+stimulates+growth+in+local+economies_106340.html
A review of the U.S. Department of Labor shows that men and women in the oil and gas industry are being cheated from their wages and being underpaid. More and more companies that are hiring full time employees are "using accounting techniques to deny workers benefits such as medical leave or unemployment insurance."
"The DOL investigations have centered on what is known as worker "misclassification," an accounting gambit whereby companies treat full-time employees as independent contractors paid hourly wages, and then fail to make good on their obligations." This is done more and more by smaller companies than larger because they are trying to keep their labor costs down.
This is far from being legal let alone fair. By law, the standard is that the full time employee must be paid more than minimum wage and they must be fairly compensated for any overtime accrued.
" As of August this year, the agency has conducted 435 investigations resulting in over $13 million in back wages found due for more than 9,100 workers"
Over the last 12 years the Oil and Gas industry has seen a tremendous growth, but at the same time increase in fatalities and injuries in the industry has also gone up.
p://www.psmag.com/navigation/business-economics/rigging-oil-gas-mining-industry-wages-workers-pay-overtime-employees-92113/
 I was raised in the Permian Basin during the 1970's oil boom.  Typically when folks think of the Permian Basin the first U.S. state that comes to mind is Texas.  I however grew up in a small oil field town in New Mexico that sits just six short miles west of the Texas border.  Funny thing is as you traveled into Texas the landscape changed almost immediately into plowed fields checkered with square and circular plots producing cotton, corn and peanuts not the stereotypical vision of pump jacks, drilling rigs and brilliant burning gas flares as seen but never thought of speaking of the state of New Mexico.  Flat, dry, dusty, treeless land stretching hundreds of miles; producing millions of barrels of oil, and growing crops to feed millions of people.  Farmers, ranchers and oil and gas men did not always see eye to eye on the use of the land.  I remember hearing and reading about the controversy between oil men, farmers and ranchers at the time, but yet to me the two industries seemed very far apart to be so close together.  Over the years economic ups and downs have affected both industries forcing technological and biological improvements through education, research and testing.  New drilling technology, agricultural biotechnology combined with water conservation efforts and sustainable land management practices have brought our two once annoyed with each other, but never arch enemies, agriculture and energy together for the good of the Nation and people around the world. Texas A&M ArgiLife Extension Service's Permian Basin Oil and Gas Stewardship Conference held August 12 of this year is a great example of two industries coming together through unbiased research and industry relevant quality education to form a successful partnership.