We all know the Oil and Gas industry is booming and rising, especially where shale is present. Schools across the region have recently started offering a oil and gas course. The Pittsburgh Technical Institute, for example is giving a course on technical information that most people would find difficult to understand. Where they can "easily make six figures with five years out."
"Here at the Pittsburgh Technical Institute, they're working for a two-year associates degree in electronics
, hoping to land one of the many jobs with starting salaries as high as $70,000 a year"
Majority of the students are from Texas and Louisiana, and the demand there is very high for students with knowledge of the oil and gas industry. Of course, none of the students are guaranteed the job once graduated, but with their new knowledge they are become very valuable to the industry.
http://pittsburgh.cbslocal.com/2014/09/23/pittsburgh-technical-institute-preparing-students-for-oil-gas-industry/
Advantages and Disadvantages of Ball valves
We have all heard what a Ball Valve is. A ball valve is a device used to control flow. When you turn the handle it opens the valve and rotates the ball to a point where the hole through the ball is in line with the valve body inlet and outlet. (Hence the name). Once you turn the handle the other way, the ball is rotated so that the hole is perpendicular to the flow openings of the valve body and the flow is stopped.
"Most ball valve actuators are of the quick-acting type, which require a 90° turn of the valve handle to operate the valve. Other ball valve actuators are planetary gear-operated. This type of gearing allows the use of a relatively small hand wheel and operating force to operate a fairly large valve,"
There are many advantages and disadvantages to using a Ball valve. To start, ball valves are generally the least expensive of any valve configuration and have low maintenance costs. In addition to quick, quarter turn on-off operation, ball valves are compact, require no lubrication, and give tight sealing with low torque
On the other hand, conventional ball valves have relatively poor throttling characteristics. In a throttling position, the partially exposed seat rapidly erodes because of the impingement of high velocity flow.
Source: GVC Valve MD www.GlobalValveandControls.com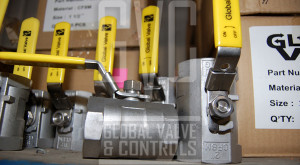 Hot Jobs for Oil and Gas Career Minded People
NBC channel 9 news;  Colorado reported on an article posted in the Denver Business Journal which listed eight hottest jobs in the oil and gas industry today.  The article read that the oil and gas industry is a booming business in Colorado and many other states throughout the Nation.  Rigzone spoke with almost 200 hiring managers to list the top eight most demanding jobs in our industry.  Engineers such as petroleum, mechanical, reservoir, drilling and H & S took the top 3 spots due to increased drilling technology.  Mechanics, accountants, field service technicians and welders held spots 2-7, while pipeline engineers, coil tubing professional and sales and marketing professionals placed 8th together.

http://www.9news.com/story/money/2014/09/09/top-jobs-oil-gas-industry-denver-colorado/15332985/
Fugitive Emissions
To emit a commodity means giving off, to issue, or to release. No one ever thinks about the words emit, emitting or emission. When it comes down to it, emission is everywhere and we don't even realize it. Industrial activities for oil and gas have to hone in on emissions every day. All sorts of oil and gas companies like valve and pipeline companies have to pay attention to fugitive emissions with everything they offer or have installed.  To break it down further fugitive emission is the production and discharge of gas or radiation.
For example, when you turn on your car the exhaust gives off fugitive emissions. Imagine how much pollution goes up in the air! This is very similar what happens in many industries. Plants and similar facilities force emissions up into the air.
When oil and gas companies start new projects they look for suppliers that offer quality products with low fugitive emissions. That's where GLOBAL Valve and Controls comes in. We hold a high standard of having "low fugitive emissions on all our valves". GLOBAL believes in manufacturing effective quality valves with no leakage thus creating no pollution.