In Platteville, Colorado  fumes from an Andarko plant are being controlled by making several changes in the valves and technology used in current pipelines and plants today.
First off there are no storage tanks which is the main source of toxic fumes. Valves that hiss steadily at old-style facilities are replaced by "low-bleed" valves that pollute only in tight spurts. Automatic igniters burn off waste gas instead of venting. A radio tower relays pipeline pressure changes, tipping off trouble to dispatchers who can send responders, And the Anadarko Petroleum team pioneering this cleaner production spent $1 million on 10 infrared cameras that crews use to detect leaks. These leaks can be changed within 1-7 days depending if the part needs to be ordered.
This is the type of innovation that is needed to continue the growth of oil and gas plants and pipelines in Colorado, while promising not to hurt the people and the environment with the fumes. The reason behind all the millions being spent on this plant is because Colorado air has deteriorated to where it fails to meet national health standards — partly due to pollution from the oil and gas industry.
http://www.denverpost.com/environment/ci_25154407/colorado-facing-oil-and-gas-boom-fumes-favors
How does the cold weather affect natural gas
In the past few weeks temperatures all across the Midwest have been in the teens. Snow, sleet, ice and rain have all been a problem for many businesses. Employees have not been able to get to work on time or at all. The weather hasn't just affected the people but also the petro fuel. The cold has affected electricity generation systems that use natural gas to run. Prices have gone up and supply has gone down.  In 10 years, the US might become entirely Independent for oil and natural gas, but to be able to control the supply and demand we will need a lot more pipelines to carry and transport than what we have now.
"According to TVA's Tim Ponseti, "When it's below 20°F, each time the temperature drops one degree another 400 MW of electricity is needed. That's almost as much as one of our larger hydroelectric dams" (TVA). Or a gas-fired power plant.  So when the temperature drops to zero you need the additional supply of twenty big power plants. That's quite a strain on the system, as we've seen this winter."
http://www.forbes.com/sites/jamesconca/2014/01/26/can-natural-gas-weather-the-cold/
Shell has announced that their results for 2013 were not as high as they had expected them to be in terms of cash flow and product output in Alaska due to changes in landscape as well as security issues in Nigeria. Delays to non operated projects around the world was also an issue. "With North American natural gas prices remaining low, the company said it particularly plans to focus on restructuring and improving profitability in its North American upstream operations." Shell has also stated that their plans for drilling in offshore Alaska in 2014 have all cancelled.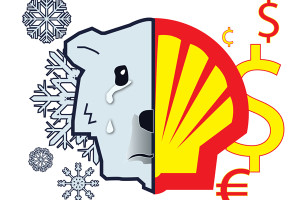 http://www.rigzone.com/news/oil_gas/a/131346/Shell_Stops_Alaska_Program_in_Year_of_Hard_Choices