The TransCanada Pipeline XL is still undergoing approval by the Obama administration, although President Obama is supposed to be deciding early this year whether the Pipeline XL should be built or not. The route would be from Alberta, Canada to the Texas Gulf Coast.
"The chief executive of TransCanada said Wednesday if the Obama administration doesn't approve the controversial Keystone XL pipeline his company will look to the more dangerous alternative of building build rail terminals in Alberta and Oklahoma."
The danger to use rail instead of a pipeline is that there have been many derailments in the past that have caused damage to the area as well as deaths.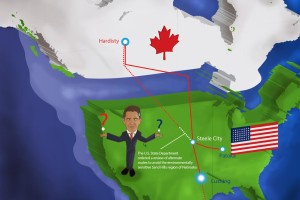 http://www.cbc.ca/news/business/transcanada-will-look-at-rail-if-keystone-xl-pipeline-rejected-1.2497643
Thank you Eagle Ford Shale and the Permian Basin, if it wasn't for the increased production of oil that the two generated, Texas would not be named,"Best place to live in the USA". If Texas were it's own country, then the state would rank the 9th largest in the oil producing sector.  But don't thank only those two, there are more shale's that are being discovered in Texas. as well as some that are growing too.
"According to the International EnergyAgency (IEA), in the year preceding last September, Texas oil production surpassed that of oil-producing giants like Brazil, Venezuela, Nigeria, Mexico and Kuwait."
http://www.forbes.com/sites/davidblackmon/2014/01/09/oil-gas-boom-2014-a-great-time-to-be-a-texan/