BP fines two engineers who may have been the cause of the explosion
As you can recall, the damage caused in the Gulf of Mexico by the BP oil spill in 2010 was massive. The explosion killed 11 workers, lost between 50,000 and 75,000 barrels of oil a day and all the oil flowed into the gulf for more than 100 days killing many animals and endangering their habitats.  BP has spent roughly about $42 billion dollars since then.
"…2 engineers made what turned out to be a catastrophic misjudgment about a critical safety test. Now the men face criminal charges in a court case starting later this month that experts say will be a tough test for both the prosecution and defense."
"Don Vidrine, 65 years old, and Robert Kaluza, 63, are slated to appear in U.S. District Court in New Orleans on Nov. 28 on charges including "seaman's manslaughter" that could send them to prison for a decade or more."
"The charges stem from their failure to properly interpret a key safety test on the drilling rig before the deadly blowout, which killed 11 people and caused the largest offshore oil spill in U.S. history. "
http://online.wsj.com/article/SB10001424127887323622904578127173280594296.html
Forged Steel Valves
Forged steel valves are used in Oil Refining and other industrial applications where forged steel material is required. Higher pressures and temperatures are usually involved and the line size is generally under the size of "2". In other conditions, forged steel valves might be a good choice for better performance, such as system requirements for socket-weld piping and compatibility of media. Forged check valves, forged gate valves, forged globe valves are a few of the different types and depending what the media is, depends on which one is used.
GATE VALVES are used for on-off operation on hydrocarbon , general process, and utility service for all temperature ranges.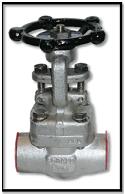 GLOBE VALVES are used for flow regulation or as a block valve where high resistance to flow is not a disadvantage and a positive closing action is required.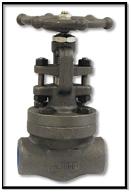 CHECK VALVES are required to permit forward flow and prevent reverse flow. this is achieved through linear or rotary ( angular) motion of a closure member which is kept open by flowing fluid.
When the flow is reduced towards zero, or reversed, the closure member is moved against its seat by forces due to gravity, supplementary springs and back pressure.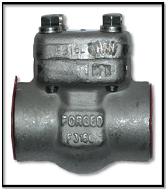 http://www.controlfluid.com/en_steel_forged.htm